Personalized Wedding Jewelry Collection at Occasions Fine Jewelry
Occasions Fine Jewelry is located in Midland, TX and offers Engagement Rings, Wedding Bands, Bridal Jewelry, Certified Loose Diamonds and many more jewelry products at amazingly affordable prices. The impressive inventory and casual atmosphere of Occasions Fine Jewelry is highlighted by designer names such as: Mark Schneider, Simon G, Roberto Coin, Pandora, Metal Smiths, Fable Designs, Honora, Vahan, Kir, Galatea, William Henry, Soho, The Bohlin Co., and Michele.
Perfect Fashion Jewelry Piece for your loved one
Quenan's Fine Jewelers a brand name in jewelry industry located in Texas. The finest fashion diamond rings, earrings, diamond necklaces, platinum pendants, bangles, gold and sterling silver bracelets, diamond engagement rings, wedding bands and certified loose diamonds at a fair price, treating each customer with the respect they deserve.
Find Your Perfect Gift That Fits In Your Budget
Sam's Fine Jewelry provides the latest Wedding Jewelry designs to their customers in Garland, TX. They also feature Anniversary Bands, Loose Diamonds, Diamond Engagement Rings, Bridal Jewelry, Custom and Designer's jewelry as well as care for jewelry related problems like jewelry and watch repair service from their professional jewelry experts.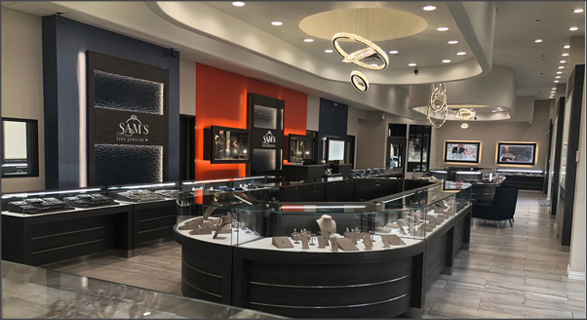 Best place to buy Fine Jewelry at Thacker Jewelry
Thacker Jewelry, they serve in manufacturing & wholesaling at own store in Lubbock, TX. We have all kind of extensive selection of fine jewelry,Loose Diamonds, Wedding bands, Anniversary Bands, Diamond Engagement Rings, and Bridal Designer Jewelry with professional jewelers to serve you in the best way possible in Texas.
North Houston's Most Trusted Family Jeweler – Thomas Markle Jewelers
Thomas Markle Jewelers offer wide range of Certified Loose Diamonds, Engagement Rings, Wedding Bands and Bridal Jewelry. We have 3 convenient locations throughout Houston and The Woodlands, TX. We at Thomas Markle Jewelers offer designer Jewelry and branded luxury watches. We look forward to helping you select a piece that will last you a lifetime.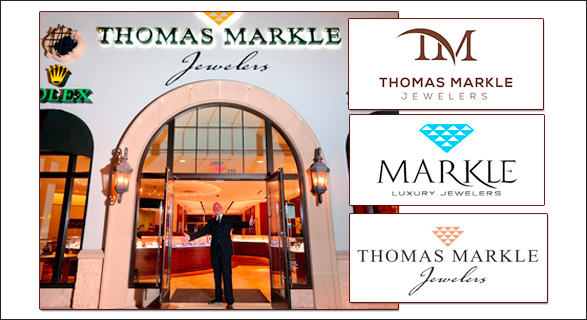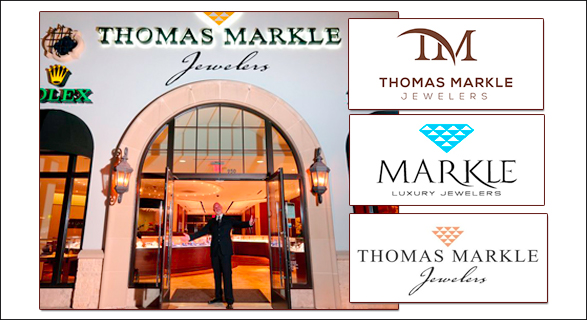 Shop Their Elegant Collections of Bridal Jewelry
Sierra West Jewelers is one of the most trusted names in Utah for beautiful jewelry. We are well-established jewelry store that has grown with their community from a small store to a multiple brand jewelry retailer. This company has been serving generations of families as their trusted jeweler for brilliant GIA & AGS certified loose diamonds, beautiful fine jewelry, elegant watches, and treasured gifts, custom made styles and expert jewelry repairs.
Fine Quality Jewelry at Cardow Jewelers
Cardow Jewelers serving their customers since 1954 and famous for fine quality jewelry in St. Thomas, VI. We have latest collection of Bridal Jewelry, Bridal Ring Sets, Diamond Engagement Rings, Wedding Bands and Certified Loose Diamonds for our reliable and loving customers in Virgin Islands. Many people choose to get married in this tropical island paradise and purchase their wedding bands from Cardow's. What a perfect way to celebrate the union of two individuals who have impeccable taste! We also provide the best selection of diamonds in the area.
Unique Buying Experience with Best Jewelers- Ginger's Jewelry
Ginger's Jewelry is offering the industry's highest quality jewelry. With a wide array of services offered, all of your jeweling needs can be provided. We are offering services include – Bridal and Diamond jewelry Specialist, Superior Custom Designs, Engraving, Jewelry and Watch Repairs, Free Jewelry Cleaning and Inspection, On-Site Appraisals by our Gemologist. We also buy old fine jewelry, cash for diamonds and gold coins.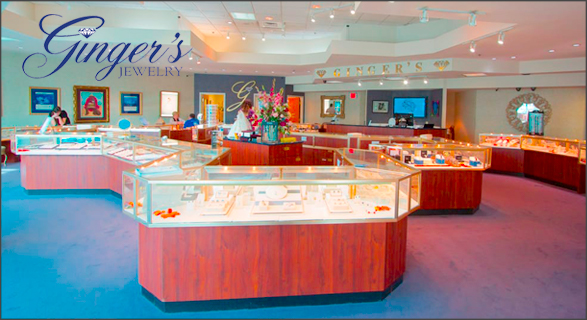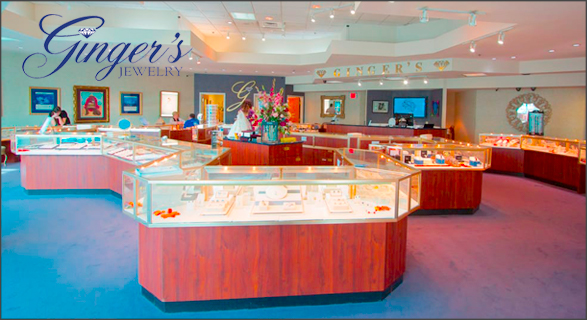 Famous Family Jewelry Store Goodman and Sons Jewelers
Goodman and Sons Jewelers has been a Hampton, Virginia family tradition. Buy Engagement Rings, Designer Bridal Jewelry, Diamond Wedding Bands and Certified Loose Diamonds with all the special services and promotions at the most competitive prices from the Jewelry Stores of Goodman and Sons Jewelers in Hampton and Williamsburg, VA, Virginia. When Lena and Stanley Goodman embarked upon this epic adventure, they had no idea how successful they would become and how proud of their sons they would be for continuing on the family jewelry store business.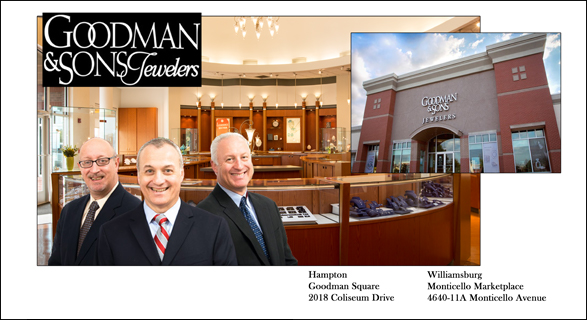 The Worlds Top Jewelry Designers Showplace in Virginia
The largest collection of world-class jewelry designers between Washington and Atlanta. Long Jewelers offer a wide range of Certified Loose Diamonds, Engagement Rings, Wedding Bands, Anniversary Rings, and Bridal jewelry Collection. Long Jewelers have many convenient locations throughout Virginia Beach, Norfolk, Chesapeake, VA. We offer designer gemstone jewelry, bridal jewelry, earrings, bracelets, necklaces and fashionable rings.