Bridal Shopping Guidelines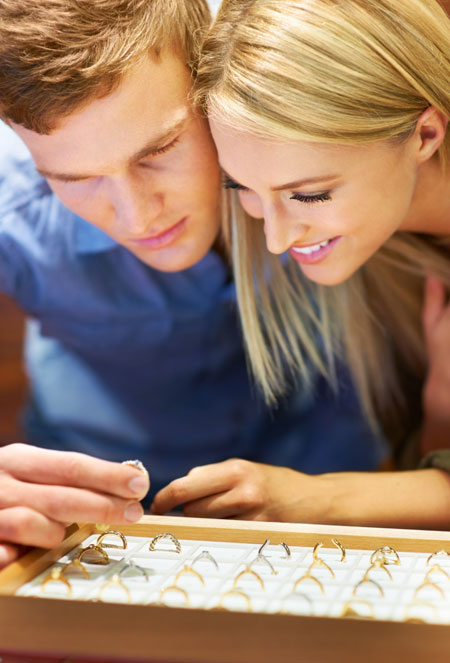 Find a Preferred Jeweler Use this website to find your nearest Preferred Jeweler. Select a Preferred independent owner-operated jeweler and avoid the national chain and Internet jewelry websites. They often sacrifice quality for mass marketing. If you do not know jewelry, know your jeweler!!!
Determine Your Budget Have a dollar amount in mind within your personal budget that you are comfortable in spending.
Pay Attention You're going to have to make a lot of choices. Platinum or gold? Modern or traditional? Flashy or understated? It's easier if you've done your homework beforehand. Look at the jewelry your sweetheart wears on a daily basis. If it's all silver with intricate designs, look for a platinum engagement ring with intricate designs (often called filigree). If it's just a few heavy gold pieces, then go in that direction.
Choose a Diamond While jewelers will sell you a preset ring, you can often get a better deal if you choose the diamond separately. It helps if you know what shape your sweetheart prefers – round, pear, marquis, etc. The most classic shape is a round solitaire. Here's some more homework: read The Four Cs of Diamond Buying. You can save a little more money if you look for a diamond with high color and cut, but with slightly lower clarity. Make sure you look at the diamond with a jeweler's loupe (that little eye glass). Most flaws (also called inclusions) can barely be seen even with a loupe.
Choose the Setting Once you've selected your diamond, it's time to choose the setting. Here come more choices. Simple? Filigree? Side diamonds? Gold? White gold? Rose gold? Platinum? Titanium? Yeah, more homework. Click on the SHOPPING TIPS link at the top of the page.
Plan Ahead You may not be able to just walk out of a jewelry store with a ring. Even with cash in hand, it could take a couple of weeks to size and set and engrave the ring you selected. Custom rings can take longer. If you want to propose on a certain date, start working on the ring early.
Get it in Writing You wouldn't buy a house without an inspection, so don't buy a diamond without an independent diamond-grading report from an accredited gem lab. It should include the 4 Cs of color, cut, clarity and carat, as well as the shape and size. And, like your house, get the ring insured.
Get a Warranty Make sure to get a Preferred Jewelers Internationalâ"¢ Warranty for FREE! Click on the tab at the top of the page to learn more.