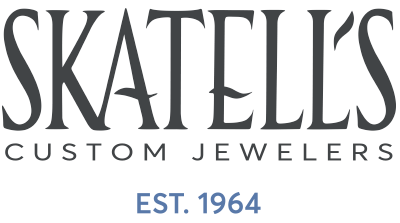 Skatells Jewelers has been one of the most trusted names in jewelry in the Spartanburg region for over 50 years now. They are known as a well-established Family-Owned Jewelry Store that has grown with their community from a small store to a multiple brand jewelry retailer.
They are proud to have served generations of families as their trusted jeweler for brilliant diamonds, beautiful fine jewelry, elegant watches, treasured gifts, anniversary bands, bridal jewelry, certified loose diamonds, anniversary rings, bracelets, earrings, diamond rings, wedding bands, engagement rings, wedding rings, custom made styles and expert jewelry repairs. A family tradition since 1964, with each independent store owned by the family members. Owners Beth and Doug opened their Spartanburg store in 1996.

At Skatells Jewelers their mission is not only to give superior customer service but has always been to give a tradition of trust, high ethical standards, knowledge of their jewelry products and services along with competitive pricing and value to their customers.

Today their family-owned and operated businesses, is considered by customers around the world as their preferred choice for purchasing diamonds, designer brands, custom creations and fine jewelry.
Three generations of Skatell family members have had the pleasure and honor of helping several generations of their customers celebrate some of the most important events of their lives.
Skatells makes their promise to you to;
• Provide you with exceptional attention with every visit to their store.
• Help you celebrate all your special occasions and important milestones in your lives.
• To provide superior value in terms of merchandise quality, price, selection and satisfaction.
• Make a commitment to conduct themselves with integrity to exceed your expectations in every facet of their business.

They realize and respect that individual taste, styling and design are extremely important to you when you decide to make your jewelry purchase. Their aim is to provide you with quality services and products with the highest degree of customer satisfaction.