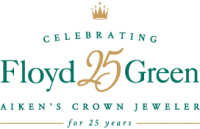 Since 1992, Floyd & Green Jewelers is serving the South Carolina region with its elegant collection of Anniversary Bands, Anniversary Rings, Bangles, Bracelets, Bridal Jewelry Collection, Estate Jewelry, Certified Loose Diamonds, Custom Design Jewelry, Designer Bands, Designer Jewelry, Diamond Engagement Rings, Diamond Rings, Earrings, Estate Bracelets, Estate Earrings, Estate Engagement Rings, Estate Jewelry, Estate Necklaces, Estate Rings, Estate Watches, Gold Jewelry, Men's Wedding Bands, Necklaces, Pendants, Wedding Bands, Wedding Jewelry, Wedding Rings & Watches. The also offer Estate Jewelry, Gold for Cash, Jewelry for Cash and Watch & Jewelry Repair services. They are known as the best jewelry store at Aiken, South Carolina.
Floyd & Green is not just a store, but a friend that can be trusted. In fact, since 1992, they've been known as "Aiken's Crown Jeweler".
This designation is a result of their dedication to offering you the best products at competitive prices in an enjoyable atmosphere, with only the friendliest and most knowledgeable jewelry professionals to serve you.
Our commitment goes beyond our customers and to our community, as well.
We feel fortunate to be doing business in Aiken, South Carolina, where people want to see their friends and neighbors succeed. There are many benefits to doing business with Floyd and Green and they promise to work hard to keep your trust and exceed your expectations.
Floyd & Green Fine Jewelers offers expert repairs, custom design, watch repairs and appraisals. Stop in and experience the Floyd & Green Fine Jewelry difference in service, quality, selection and value.
Another exceptional Preferred Retailer offering "Experiences that lasta Lifetime™"