With Valentine's Day being right around the corner, finding the perfect gift for your love one can be nerve racking. Should you go for something more traditional like a heart shaped box of chocolates with a dozen red roses? Or should you do something more memorable like a weekend getaway to a romantic destination? Any of these suggestions will work but, why not go for something more memorable? Something they can always look back at and cherish forever?
Make this Valentine's Day the one to remember by getting your sweetheart a stunning piece of jewelry. What woman wouldn't like a heart shaped pendant, diamond stud earrings, a charm bracelet, or anything that sparkles? Men are even wearing jewelry more now than in the past generations. Bracelets, watches, cuff links, rings and even money clips are excellent gift choices for your stud muffin.
For the Ladies
Show her how much you love her with a precious diamond heart pendant. It's perfect for your wife, girlfriend, mom, sister or any lucky lady that has a special place in your heart. One of our PJI members, Alter's Gem Jewelry in Beamont, TX, has a gorgeous Diamond Heart Pendant for you.
Let your girlfriend know that you will be true and faithful to her with a heart shaped promise ring. At Brownlee Jewelers in Charlotte, NC you can purchase a beautiful 14Kt White Gold Heart Shaped Ring. It will definitely take her breath away.
Heart shaped earrings will also put a sparkle in that lucky lady's eye. The Source in Rochester, NY has a beautiful pair of dangling 14kt yellow gold and sterling silver heart earrings to offer you.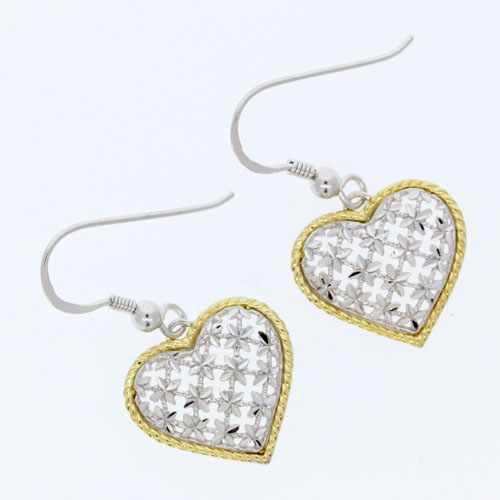 For the Men
Men appreciate getting diamond jewelry on Valentine's Day as well. G.M Pollack in Scarboro, ME offers a masculine Titanium Dual Finish Diamond Bracelet. It has just enough bling to show him your appreciation.
Men's watches are one of the most important accessories a man can own. Today they come in many different styles, colors, and sizes. Justice Jewelers in Springfield, MO offers a very nice variety of watches to choose from. This one here is a Stainless Steel Gents Bulova Accutron Kirkwood Quartz Chrono Watch.
Does your man wear a lot of suites? Than cuff links will be the perfect accessory for him. Cuff Links are fancy, yet subtle but, claim authority all at the same time. They also show an eye for detail. Corbo Jewelers in Rutherford, NJ has a 14K White Gold Cuff Link with beautiful mother of pearl inlays.
So make this Valentine's day a memorable one and give your local PJI Jeweler a visit today.
To find a PJI jewelers by you check out our Membership List!